Actionplan
Now we're almost at the end of our epic-campaign guide and towards the end we got a key to success back hidden here. Let's hope you find it useful since unless you're already doing it with an actionplan and timeline you might find the concept a little strange and uncommon.
The actionplan should be your final planning tool and bring together events, npcs, factions and influences they have on your game. You will find a lot of different ways howto implement this into your game and visualize what you need to know. I chose an easy project diagram with a spreadsheet tool.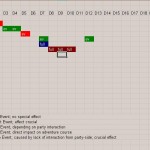 The colorcode easily gives you an approach to mark everything according to their importance, you can use traffic-light-colors or whatever you feel comfortable with. I suggest especially for the first use of an actionplan to get yourself a short legend (see picture bottom) to make sure you know how crucial an event is and when / why / what effects you expect.
Usually I just work with a colorcode without much more but I tried to figure out what could be useful when you're either newer to dungeonmastering or prefer to plan more instead of improvising a lot of the whole plan. So I figured most important additional information will be to have a timing of events. My approach would be a general information "full day – morning – afternoon – evening", not a lot more since you might want to change a few things on the fly to reward players for alternative thinking (you will encounter this more often than not and will hopefully be surprised several times by the creativity of your own players… I always am).
Once you've got that far you might want to feel like, a few small extras might be handy, a fully fledged actionplan can take up a lot of space and you will probably want to link events together, my personal approach would be like this: Continue reading epic preparation – p8 – Actionplan