Just a short sidenote – inspired by a few plugins over at ChattyDM and GeekDreamGirl I just started with the Wavatar and Commentluv plugins. I have to admit I like both pretty much.
Wavatar is adding nice little avatars which are very much "generated" as a result of an md5 hash of your mail-address. So you tend to have the same face everywhere ( and i started to wonder how that worked, before I knew it was such a plugin around ).
Secondly the CommentLuv links to the last blog-entries of those that made an entry at your page. Pretty nice I think – helping the whole Blogosphere a bit especially when you use good titles.
Just in time – on saturday it's once again Curse of Avalon time. More precisely – this time it's a Covers of Avalon – one of the rare events when Reeh, Piratte and myself will try to captivate an audience with creative and hard-found cover versions that either inherit their song in medieval or metal genres or are ported just into that genres. I'm looking forward (as always) to the event and hope we all have a favorable time.
By the way, the new Curse of Avalon Homepage went online yesterday. Visit http://tcoa.lemmi.at for details – and the next date was scheduled for 18th of October.
First it started not too bad, when a friend of mine proposed the Midnight Movie at the UCI-Kinowelt in Vienna. Even the description of Dante01, did not read that bad. But in the end – it was not the best science-fiction movie out there…
Dante
Everything starts quite promising. We've the genuine theme of human experimentation in the "future" or past of a high-tech world. We got a thrilling package of a psycho-prison for inhuman scumbags – and we have a selection of (in my humble opinion) quite good actors in excellent characters.
One of the problems I saw with this film was, it starts thrilling – but reaches no climax – it constantly tries to create a dense atmosphere but does not make good use of this environment. For my part I am not a particular "fan" of the fantasy and religion subset in the movie, but they are both ok.
But then – after all these minutes – still no climax and a quite boring end of the movie. One scene takes roughly a few minutes but shows one and the same S-FX just from different angles – the turning of the inferno into some "earth" or -like planet. It just lacks a proper ending. From my side I would give Dante 01 3.5/10 points for excellent characters, a good cast and a good idea which was unfortunately not taken to its limits.
FInally I found some time this weekend – and I had the pleasure to watch a great movie on DVD –
Babel
 Thanks again Mischa, this film was a great experience and I will try to give a short review without too much of a spoiler (like e.g. the Wikipedia entry does).
Babel is the third and last part of Alejandro González Iñárritu's Trilogy of violence, death and the abysmal human character. But it is (again imho) a true masterpiece.
The movie takes four approaches:
Two maroccanian brothers, who have to protect goats with a newly bought M70 rifle.
A deaf japanese daughter who is trying to stand against her father.
A couple on vacation enjoying a bus tour.
Two kids attending a mexican marriage.
I admit this is the roughest of summaries without telling too much, but these four angles give a genuine view of violence and these darker sides of everyone's soul – it pictures stress situations and overall draws not only from the actors' talents but seemingly lives from the insightful views of everyday lifes turned into chaos within mere seconds / minutes / hours.
Perhaps it was the contrast to Dante01 that made me enjoy this one that much – there was constant variation of the thrill-levels, ranging from calm moods to dense and thrilling action. The ending itself (ok, without telling the amount of happy ends in this – I think there were too many happy ones with only a few not-so-happy ones) – but this again is probably Hollywood. Still the ending was ok and enjoyable.
General conclusion: Babel is great. 8/10 points
Guten Morgen,
(for obvious reasons – Toyrun being an exclusive Austrian event for the time being, I'll write this article in german – my apologies – but in case you're around Vienna, like Motorbiking and aren't too shy given the upcoming bad weather – join the toyrun on sunday morning from the Brünnerstrasse, 21st district).
Ein weiterer Toyrun steht vor der Türe. Am Sonntag ist es soweit – auch wenn die Wetterprognosen nichts allzu Gutes verheissen – es geht wieder um eine Benefizfahrt für Kinder. Abfahrt wie gewohnt früh morgens, wir werden wohl in unserer Truppe die verhältnismässig gross geworden ist am Sonntag gegen 5:50 / 6:00 morgens aufbrechen um hoffentlich wenig später ein neues Toyrun Band am Lenker vorzufinden… Normalerweise ziehen dann tausende Biker entlang einer unglaublich liebevoll ausgewählten und gesicherten Tour an einen grossen Festplatz – jeder der Biker mit Spielzeug vollgeräumt und liefert genau dieses als Spende für die Kids ab.
Ich kann es nur jedem Motorradfahrer nahelegen sich das Event zu geben – ein wenig "Gutes" zu tun ist gar nicht so schwer und das Lächeln in den Augen der Kinder entschädigt für jeden Regentropfen den es am Sonntag geben mag.
Genaueres gibt es hier: www.toyrun.at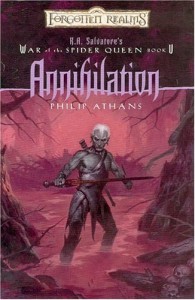 Hey finally I've found my old book digestion speed again ;). In other words – I've quickly used the drive I got from Lisa's Extinction to dive deeply into Annihilation by Philip Athans. And it worked. It worked well. In this book you'll have the expedition to the Abyss on the edge of destruction and more than that, you've a high priestess close to utter desparation – an archmage (of Menzoberranzan) on the verge of destruction – a lichdrow in his finest and darkest moments and an assassin between two sides. You'll read that thousands merge into a few, and those eight return.
I have to say, it was an impressive read. Due to my work obligations I had a few trips by airplane which certainly sped up my reading in this, but even without these trips, Annihilation was a very thrilling and captivating read. I'm not quite sure if I like Philip Athans' personal style with the underdark and his approach to the characters as much as I did Lisa's – but I have to admit it was a continuosly coherent and action filled read coming from someone with a great imagination of this world.
 
So it finally looks like I will manage to get the War of the Spider Queen read within the next time and can go on with some of the decent looking books from my self-filling shelf  :). I would rate Annihilation with a decent 8 of 10 points, given I am not too fond of the writing style, but Philip did a great job on killing one of the characters I was certainly enjoying most on the way, and still I think he did extraordinary well in the scenery.
Greetings and hello, I think it's about time I write my short review of Lisa Smedman's extraordinary contribution to the War of the Spiderqueen Series. She wrote a book called Extinction – driving forward the journey to the Abyss and giving Pharaun, Ryld, Valas, Danifae, Halrissa, Quenthel and her draegoloth but not only them…
My personal favorite is her approach to Gromph, the archwizard of Menzoberranzan, his dealings and troubles. There are incredible nice ideas for challenges in this book – a great, short overview of an aboleth "society" and their powers – an illithid, Elistraee priestesses, Werewolves - I like the changes during the storyline – and the flaws and merits every character seems to possess. It wasn't the best book I've read, but it's close to Paul S. Kemp's novels and I am very much looking forward to read Lisa's others books after I finish with this series. (Which keeps me from reading other books for far too long now).
Conclusion: It was one of the best books of this cycle, probably the best so far and now the bar's pretty high for book #6 – and my expectations for Paul's of the last book are growing. *smiles*
This might sound like another chapter in the rpg section of this blog, but behold – it is not *smile*.
Battle of Kingdoms, also known as Muk Gong is a wonderful, film based on an old legend, located in the heart of Asia.
As for the storyline, it's around 400 BC in China, and the lands are divided – at war. The nations Zhao and Yan march against each other and in the middle there is the small kingdom Liang…
This film is about treachery and treason, about tactics and quite a nice display of martial arts, it's a little about the terror of war and the mistakes in life. Main actor Andy Lau gives a very sympathetic Ge Li and contributes a large part to give this movie a bit more of – everything.
As you can imagine it is quite hard to pack an epic story of war, an incredible battle of wits between strategical masterminds into a bit more than 2 hours (~130minutes)…
Still, it is more than just a few minutes of action and inspires emotions of disgust for treason and treachery, pity for unfulfilled love, hate for immediate injustice, passion and compassion for a few congenial characters that twist and turn within normal bounderies.
For the roleplaying gamers, it is an incredible resource for game masters and players alike – get yourself inspired by daredevil characters, watch a prince overcome his pride (though your first impression will probably be "eeks" when you see his behaviour) – and enjoy a movie that is meant to remember.
My personal rating is 4.5 of 5 points for a good mixture of action, tragedy a great storyline behind the scenes and congenial and genial actors and characters. Enjoy!
Well I tend to update my blogroll (you can hardly miss it – it's right next to this text) silently. But I have to admit doing so probably does not give the credit many blogs deserve. And I came to realize that today when I read through a few rpg blogs… Featuring other blogs tends to be the way to show what you like and a key feature one should utilize, whether he's a regular blogger or just a irregular one as I am.
So I picked three blogs I discovered lately and though a short description and my sincere recommendation to give them a few moments of your time, if you're (as I am) looking for interesting reads. Read more
Wir hatten einen durchwegs amüsanten Abend gestern.
Er begann mit Azumi I [die furchtlose Kriegerin] und endete mit Azumi II [Death or Love].
Eigentlich könnte man den Zweizeiler so stehenlassen, aber es wäre nicht Warnung genug. Nein, ehrlich die beiden Filme haben wir als derartig schlecht empfunden… Ich verstehe beim besten Willen nicht wie der Film soviele Auszeichnungen bekommen hat (ok, most popular actor, nachdem ein Japan-Pop Starlet die Hauptrolle spielt) – es handelt sich um eine Manga-Verfilmung mit Computerspiel Flair. Das sagt wohl schon alles – für mich waren die Kampfchoreographien und Kameraeinstellungen teils sehr ansprechend und die Rolle des Bijomaru Mogami (einem narzisstischem, in Frauenkleidern herumlaufenden "Endgegner"…) war gut besetzt.
Nachdem wir mit Teil I fertig waren, haben wir die Magic Karten ausgepackt und Teil II nebenbei angesehen – mehr wäre mit Sicherheit nicht erträglich gewesen.
Ich denke einer der schlechtesten Filme ever – wären nicht ein paar humorvolle Auseinandersetzungen (ein am Ende vor Begeisterung schreiender Bijomaru Mogami, der Azumi applaudiert als sie durch die Menge schlachtet und absolut verzückt ist, als er das erste Mal in seinem Leben parieren muss…) – und die drei Banditen die am Anfang auf die Gruppe angesetzt werden hat auch einen Hauch Humor.
1 von 10 Punkten.
What a nice coincidence, after yesterday's work my best friend and my girlfriend convinced me to join them in one of the local shopping malls…
…after too much food, hot white chocolate drinks and a piece of apple-pie we met Dani and Sarah, who planned to attend the sneak preview (like in older times I've done quite often on wednesdays…)
Ok so our choice was – Sneak Preview, Saw 4 or Rambo 4 with the later two voted out due to our girlfriends – which made the choice more a fact *smile*.
Needless to say we bought the tickets and – well everything started with quite a lot of action – the trailers of TheDarkKnight (Batman), 10.000BC and at least one more trailer I do not remember… And before this there was a strange "28 days to war" trailer, I couldn't find anything on this horror movie – it at least seemed like one.
Then the main movie started "Lars and the real girl".
(First impression – "Oh no, not another heart-breaking romance only – movie!")
The beginning five minutes were not very promising, everything takes place in a small village, a sister trying to convince her brother Lars to join them to their breakfast/dinner… Lars at work trying to avoid every contact from people, especially women. [This was the one weakness I really didn't like about this film, you see Margo + Lars and can figure the ending within one moment there]. But then it starts with a creative mix of humor and the real girl (a lifelike doll) is shown on the monitor of Lars' colleague.
6 weeks later a quite large box is delivered by UPS (perfect product placement there) and everything unfolds. Lars goes over to his brother and sister-in-law and announces he's got a woman over at his place. He would like to come to dinner and like her to sleep at their place in the pink room (because she's quite religious and stuff).
Well without spoiling everything in the film. It is a good choice for a nice evening – maybe not a movie to watch more than once (within a few years) but definitely a great choice for a film that has all a movie needs. It's quite sophisticated, has a lot of humor and still a lot of seriousness. The actors did an outstanding job and according to IMDB it's already nominiated for an Oscar and has gotten several awards.
It's not perfect and probably not for everyone, but it's combinations of light-heartedness, psychological relevance and sophistication (probably the worst words I've ever used for a review) make this film special. I'd give it 9 of 10 points.