If you missed part 1 & 2 of this story, I recommend reading it – after all it's an adventure writeup.
Rashemen and beyond (Session 9/ 4) – you're reading it right now.
another session is past, and I have to admit it is one kind of session, I hardly will miss. From the players and my personal side it wasn't bad, actually it was very ingame heavy and a lot of character interaction that made a sweet sunday evening for all of us. Though everything was very different than planned and it was a session that shaped the rpg-sessions to come probably quite heavily. In all games we ran we had some limited amount of player fluctuation, but our unique approach to take care of this now heavily interacted with my hobby of ending sessions inmidst of some action. Last time ended with Daec having acquired, *cough* a seemingly mighty book, bound in flawless and marvellous blue leather and sealed shut. With Daec knowing what he had to do, or what he should try to do, I was relying heavily on what came next – the appearance of an Inevitable hunting the former owner of this book and an infamous red wizard appearing in the tavern. This is where we ended, it just did give us some problems when Read more
If you missed part 1 & 2 of this story, I recommend reading it – after all it's an adventure writeup.
Rashemen and beyond (Session 8/ 3) – you're reading it right now.
After entering the ship to cross Lake Ashane it started with a strange occurance when in the heads of Lysalis and Enelya, voices in a strange, barking tongue (the players guessed it could be hobgoblin) echoed. Those sounds were hardly pleasant, more of a requesting or – commanding type. Only hours later Lysalis removed the cursed, black ring from her finger – giving another riddle without a clue to wizard, theurge and cleric who were all trying to remove the other ring, this time from Enelya's hand but this one was still enjoying a very strong, cursed bond… Meanwhile it was the keen eyesight of a few party-members, that revealed they were watched from below, a few frog-like eyes that oddly reflected some sunlight. The red sabre was sailing hard towards the evening and gave Enelya, Lysalis, Sanchy, Livia, Whuryni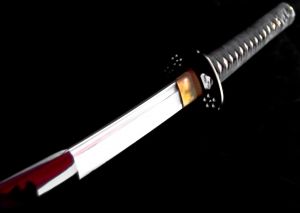 a and Daec a immediately the whole crew of the ship and of course the party members, too got a good idea of why Kua-Toa are called Merchantsdoom in this region… A hard, though not very long fight started – and ended with two kua-toa killed in the water and three of the sailors missing. With captain Faeltrag losing somewhat like-a-son, he ended up very drunk. An opportunity not to be missed by some of the party to talk the first officer into taking the steering wheel and ending up shipwrecked, but Read more
Another week was over and finally we met again to continue where we last stopped.
After our last session, we ended right in front of an iron golem, Enelya (the as stubborn as impatient barbarian woman) applied the Oil of War to the huge construct who slowly rose to even larger size and asked in the slow and grumbling language of earth elementals for their concern in this part of the world. Having Whurynia, the  cleric of Moradin taken care of this, the golem soon stepped aside and gave way to the stairway down, leading to a larger hall with a distinctive black-slowly bubbling pool on one side and an old, red carpet on the floor leading to a double-throne on the other side. Only a few moments later the whole room was transformed when the scarred warrioress Enelya stepped onto the carpet, the whole area was lightened by a good dozen of torches, lit by a mage's hand or (more likely) by and ancient spell that still was lasting in the old halls down here. The atmosphere turned creepy for but a moment when a translucent, white/grey shade of a dwarf appeared to reveal a most ancient dialect of sorts, that was only thanks to Daec's and Whurynia's expertise in the dwarven tongue and ancients dialects of it to be understood (ok, admitted Daec had some magical help, but the ghost was really hard to understand…) Read more
Yesterday I just found my way back onto the Dungeonmaster's seat at our gaming table. In short words, it was great. In longer ones I'll give you a brief but still depth review of yesterday's happenings…
Our gaming group consists of 6 players + 1 dungeon master, mostly 1-2 players are missing, so we had a party of four characters yesterday afternoon and evening, of which 2 were newly introduced. The initial meetup was in a tavern without me steering or adding more than a bit of atmosphere (food and drink served by the tavern owner himself), the tavern is located in the capital Immilmar (of Rashemen – Forgotten Realms – Toril – D&D setting…) and called A Stormy Night's Tavern (Sturmnachttaverne). The initial meetup was disturbed by a young fellow carrying an informal and friendly invitation for Daec (one of the characters) to join the local (lonely) Oghma cleric who's attending a library inmidst a land of barbarians, he received two gifts (handmade copies of writings he was more or less asking for) and parted in best spirits with the librarian. Currently we're closing in on winter in the campaign, therefore light snow and freezing wind was adding to a tense atmosphere whenever someone entered or left the tavern. The young, 12-yearish nephew of the librarian seemingly caught the sympathy of several characters (and their players) when he mentioned that he was not very happy with reading all day long. (Even Daec understood his point, being more than an bookworm himself)… It was a busy day on the streets of Immilmar, one of the market celebration's that take place only a few times a year, traders from far away places (even Halruaa) were participating and enjoying. So was Enelya (another character), herself a barbarian from the north and already enjoying Jhuild (rashemi firewine) for quite a while, when she first came to taste the real stuff, Jhuild from Urling. Seemingly happy with the content and good price she could achieve on the market she headed back to the tavern to meet with the others later that evening. Lysalis (the half elven warrior) and Wuhrynia (herself a dwarven cleric of Moradin) were back in the tavern as well… With growing hours the tavern was filling up to approximately 30 people, most of them traders from the vincinity of Rashemen and beyond, a handful of immilmar berserkers from the giant stag's lodge and two warriors, who were probably swords for hire and accompanying a few of the traders. This is when Lysalis and Daec both recognized a feeling they had already had earlier that day, someone was watching them – and then – hell broke loose. Read more
Short newsupdate since i haven't had the time to continue  on my Underdark sequence.
Pathfinder beta-testing has ended yesterday,  found the information on pathfinder newsletter and over at Questing DM.
Besides that I've seen a very interesting posting (a real recommendation) when you're facing some disharmonies in your gaming group. I've had that problems at least once in the past and had problems dealing with it. Mike and Johnn describe different approaches to facing disharmonies by lack of trust and problems with character concepts.
Since alchemy is present in most fantasy systems, but I haven't found a rewarding – easy to use – nice looking, working basic ruleset or the like, I think I'll give Bard of Valiant's system a try, and will introduce a little bit (really only a little bit of it) to characters that are likely to have uses for this. I might come up with a few rules for a downside (explosions, failure without noticing) but right now would like to try her alchemy rules that she has laid out in a straight-forward and easy to use blogging series.
A few words on our campaigns over here. We're currently running Pathfinder RPG in two campaigns, one is located in the underdark and run by Thomas, the other one is currently located in Rashemen and run by Roman, I will take charge of the later group at the next opportunity. Very motivated to sit in the DM chair for once again, I made sure to read Johnn's freemind feature once again and while I used the mindmapping tool so far only with single-mindmaps I found the interlinking of different mindmaps to be very comfortable, this makes the use of the maps a lot easier and even on larger-single trees you can link within one mindmap. Currently I've prepared an overview mindmap crosslinking to "Allies, Items, Timeline, Brainstorming, Opponents and Traps", I will add at least characters as another mindmap to it. It's very helpful in the planning procedure and I'll post the mindmaps once the whole adventure campaign is over here. If you're curious, let me know and I'll send it to you via email (the main reason why I can't post it here is – some of my gaming group might read it and I hate to spoil their fun). To get the planning mindmaps in mm (Freemind format) write me an email to admin (insert an AT here) lemmi (insert a DOT here) at and you'll have them in no time.
As a teaser I'll give you my intro-mindmap with no specific information on it.