Als erstes Kurzreview möchte ich die neue CD von Lacrimas Profundere (die ich vor geraumer Zeit von meine Vater kennengelernt habe über das Lied Adorer and Somebody) – vom Label Napalm Records herausgegeben… Die Rock'n'sad Sparte ist weiter ausgebaut worden – leicht melancholisch und nachdenkliche Klänge und eine traurige, in der Zeit stehengebliebene Stimme.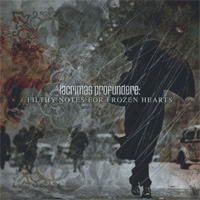 01. My Velvet Little Darkness
02. Again It's Over
03. Not To Stay
04. No Dear Hearts
05. Short Glance
06. Filthy Notes
07. Sweet Caroline
08. An Irresistible Fault
09. To Love Her On Knees
10. Sad Theme For A Marriage
11. Should
12. My Mescaline
Fazit: sehr empfehlenswert Рwer Gelegenheit dazu hat Рreinh̦ren!