May 2022, after a strong pandemic time, it's our first time "back out" for the better of a year. The memories of Florence are still present, especially on the food and heat, but this year's anticipation of vacation was unprecedented. So we booked rather early, hoped the pandemic would follow the season like it did in 2021 and were glad when, about four weeks ago, we were first time out at a concert and club without wearing a mask for quite a while. Vacation was likely to happen and by the time I started this posting "yesterday", we arrived safely in Barcelona.
The trip is rather unspectacular, 2,5 hours flight time from Vienna, Barcelona aeropuerto is large but did neither feel too crowded nor slow. Once you find the way to the metro, which tends to be a bit hidden, the route to our first "lodging" was easy and we arrived only 45min later. After an initial keypad (opening the door) and another keypad (releasing the key) we moved quickly in and out to enjoy our first evening out in Barcelona. We decided to investigate the immediate surroundings, a lot of "Blaugrana". For all that are suffering similarly from not-knowing-what this is: Barcelona soccer fans, were on a pilgrimmage to their sanctum. We enjoyed the view and decided to get back to Collblanc for a bite. Very close by "De Angelis" was a place we passed earlier, that was (30min earlier) quite crowded. But on the second attempt we were immediately offered a nice space in front of the restaurant. Just a bite, remember? I wanted desperately to feel enough hunger to try the marvellously smelling Pizza here, but I could not stomach that much. So I ended up with an equally splendid and assumably healthy "tropical salat", mixed green with strawberry, raspberry, mango, white cheese and a non-intrusive balsamico dressing. For me, already a highlight – even though it was not "local" but I am sure a local adaptation. Juli went for the house burrata, which was creamy and tasteful and left us both smiling. Next to the great food that led us to order a dessert, the service was outstanding. De Angelis for us was day 1 (night one) highlight to recommend for an area that seemed to us was not overly popular for its food.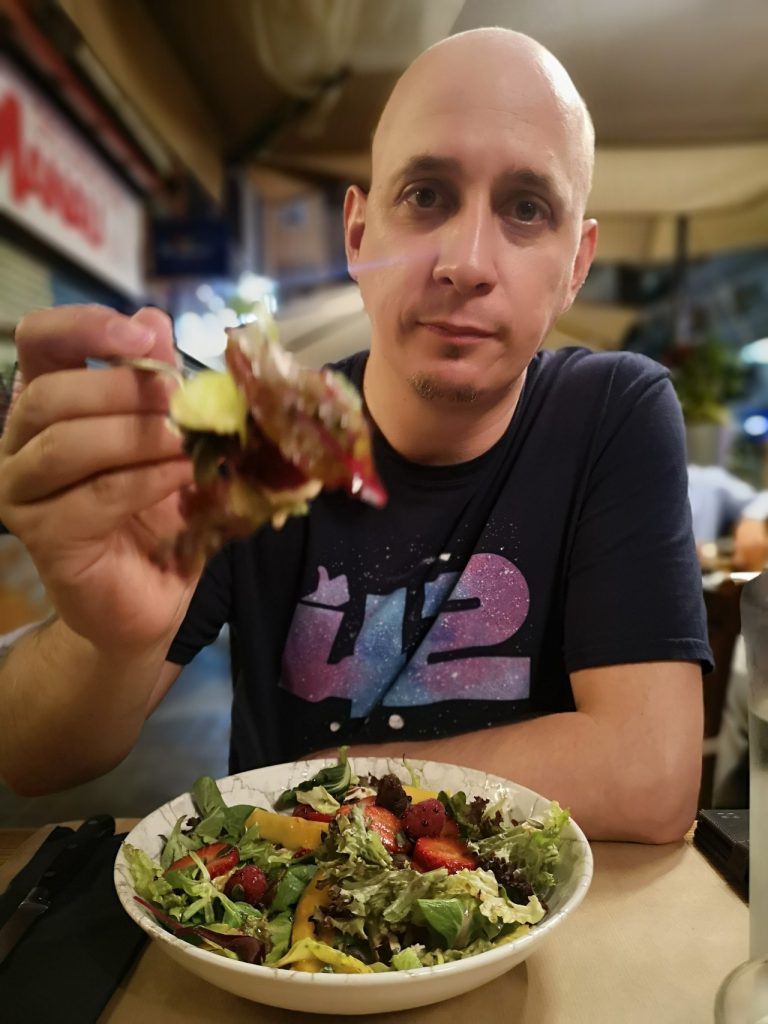 So, after a good night of sleep, day two could come.