A good night of sleep is everything you need. Barcelona was calling, so we had to heed her call. It seems rather not worth to consider getting up early in a city where breakfast cafés open around 10:30. We jumped into the metro L9 to Marina and took a short walk to our breakfast location "Can Dende". The culinary expectation was high, since it was a recommendation from our guide and it was not disappointed. Chai latte, excellent omlettes with green onions and fluffly pancakes delivered us the basis for our first 15.000 steps in Barcelona. On my next trip here I might focus on capturing all the magnificent street art that BCN offers. This time I've only caught a glimpse with my camera. And on our way from breakfast to the beach, we passed by an uncommon and interesting cemetary, worth seeing as well.
We were observing the steep sandy coastline and strolling it from Can Dende, with a quickstop at an ice-cream place, all the way to Las Golondrinas. That's quite a few steps for a walk, even though we could enjoy the sand and ocean very much before we took an hour worth out on the ocean touring the wonderful port-scape of Barcelona.
We luckily were ensuring to be fit enough for the evening to come with my dear catalan colleague Alvaro and his wife Martha. Both would offer us a glimpse on the city from their own perspective and – it was soo worth it. Before we got dressed for the night, a quick stop at the MOOD rooftop bar "the one" left us happy with my first Mochito of Barcelona and Juli enjoying a special treat with special filled avocado rolls, the service was good when we arrived and I won't complain too much about it, the view was reserved for hotel guests, so a bit overrated and -priced in my opinion.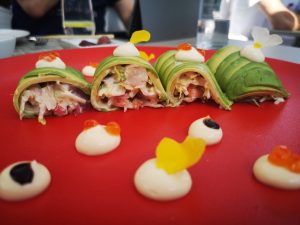 A good hour later, after we got a bit refreshed and took a 30min break from the roughly 20.000 steps so far, we got ready to meet at Placa de Catalunya, a very easily accessible, central place, also the official start of "la rambla" the probably most famous street of all Catalania. A walk south on it showed a multitude of architectures, including also the well known market "Mercat de la Borqueria", which on the street side is very touristy and also very pricy. The newly introduced fruit called Nispero was about thrice higher than her normal market price. Anyways the presentation along the market was worth the stay and I can only recommend visiting it. The beautiful artisan's building with umbrellas and a dragon in the facade was just the beginning, as we went a bit further into, what I would consider hidden gems as normal tourist of Barcelona. Several musicians were playing the streets, some better some worse but the overall impression was a positive one. The streets are not too dirty, but it stings to see rather large amount of homeless people and the everpresent threat of a purse getting stolen is something you're not used to as an Austrian, so keeping a close watch on valuables was several times in our heads.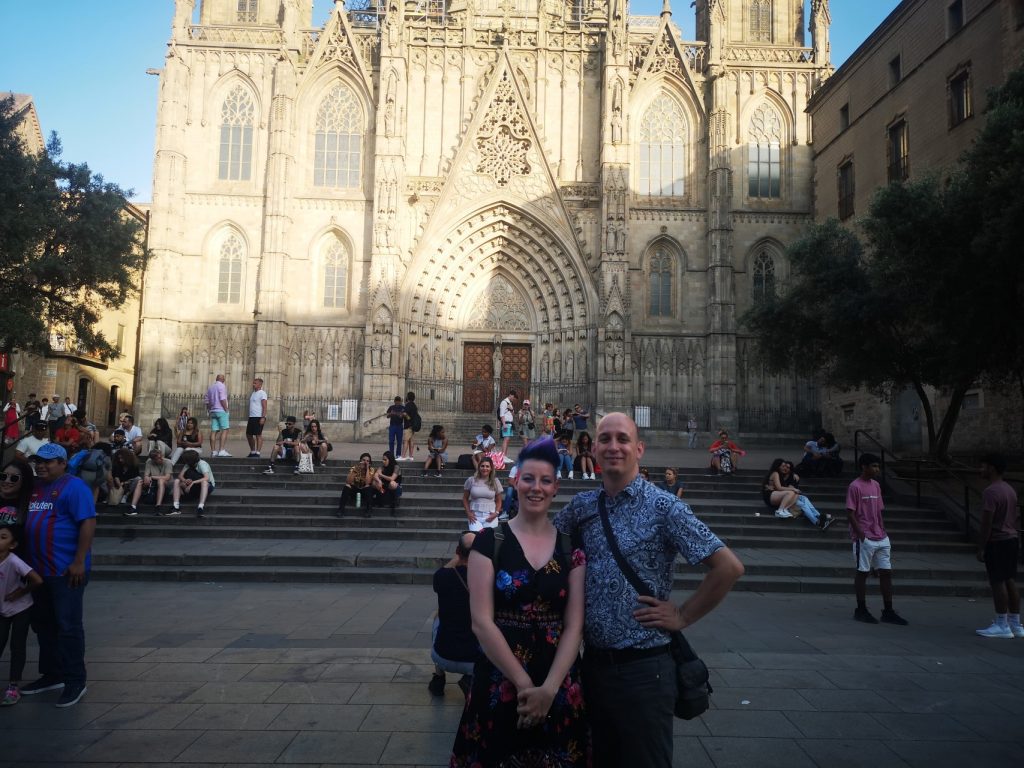 Another highlight was our first real tapas, like – ever. Cal Pep convinced us that we have to try more of this. Their "seven course" tapas gives an excellent selection throughout local specialities (tomato-bread, octopus on potatoes, freshly fried squid, fish and gambas, tasty fried artichockes, savory green pepers, hearthy white beans and sausage with a sweet brown sauce, crunchy-crispy crocettes and omlette,…) besides the very attentive service it was simply a great place to be, enjoy the food and company. With another stroll back to Placa de Catalunya our evening ended and with almost 30.000 steps we might have started very strong into our vacation, worth every single one, as tomorrow we will leave Catalonia and enter the heart of spain, Madrid for a short stay, getting a glimpse of the capital.