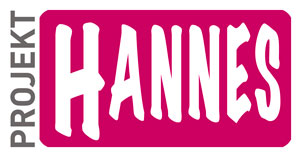 Hannes will leave us soon but there were still a few things we wanted to show to him, since he spent a lot of time over the last two days together with the hitchhiker sheep (on the pictures easily identified with a olive-green french-hat) and James the skunk – but since we have a lot more sheeps around here, and everyone was pretty fond of our visitor, the hitchhiker-sheep prepared something special. But I think pictures might tell you a little more than just my little story…
So after telling Hannes that he was looking forward to a nice evening with some popcorn and tv (Hannes was looking quite sleepy and might have enjoyed this after all), our planning little hitchhiker's sheep led him into the carefully prepared living room. As you can clearly see, Hannes was really calm and not expecting the least of what should follow.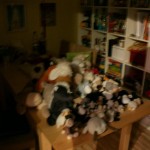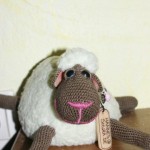 So it was quite a surprise for our little guest when he realized that almost every sheep (and a skunk) was expecting him to share this special, last evening for the farewell party with him.
As you might imagine, Hannes – who did not expect any party at all, was reacting a bit overwhelmed and shy at first…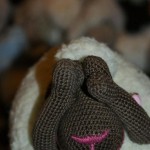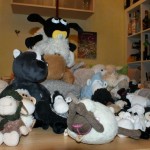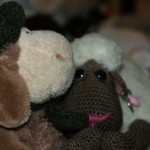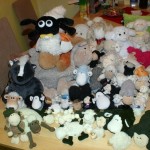 so as you can clearly see – it took us a while to get everyone relaxed, especially with James the skunk around no one is really 100% trusting the party to be a real success, but it worked out… By the way Hannes is still partying – and I haven't seen anyone leave it yet. Might be necessary to restock their Popcorn, port-wine, original french Flock and the other things they might need for their special event.
From my side, it has been a pleasure to host the last days with Hannes on our side. I'm very much looking forward to find out how Alwa will do and how Hannes reacts when he first sees the inside of a real Austrian Heuriger, but I'm confident and actually 100% sure he will enjoy it.
Thanks a lot to Voodoosheep for starting Project Hannes, it's been fun and a pleasure. We (Jinxx and me) wish Hannes all the best for the future, we'll be watching his trips to the center of the blogosphere and wish upcoming hosts a lot of fun with Hannes.
So far it looks like Hannes' next host has already prepared a lot – enjoy your stay there and travel safe!
(a final note, after the stay at Alwa's place Hannes will travel back to Germany, there he'll be a guest to Suriel, have a great time there, too!)